Podcast - tips for Adam Curry fans
i am so very tired but i had a great idea to solve all the problems that Daily Source Code listeners are getting with itunes....
Podcast - Tips for fans of adam curry
just a useful guidelines about more effective ways to download podcasts that should help you all out. i have a very bad headache and must sleep.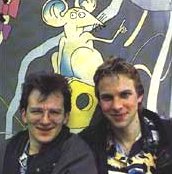 getting jiggy with it
i am just downloading a real treat for fans of adam curry, i will publish my findings tommorow when i have had a chance to decypher and interpret them.